You are never too old to watch cartoons, right? No matter if you'd like to relive your childhood memories or to entertain your kids, Kodi could be a powerful ally. With hundreds of sources of addons and numerous different customized editions, it's no wonder why this home theater software is so popular. Both developers and users like to tinker with this media-streaming player, which becomes more powerful with every new iteration. Besides, there's no shortage of useful and entertaining addons. You are about to see this for yourself since we'll be taking a look at cartoon Kodi addons.
TechNadu's team of writers is always on the lookout for new and exciting addons. This is why you can often find useful guides for specific groups of addons. For example, for movie-streaming Kodi addons, or those that cater streams of high-definition content. However, we don't just give you a list of addons. Instead, we dive deep and try to explain in the best possible way how to use those addons. More precisely, our guides feature step-by-step installation and an overview of the most important features. Things won't be any different in this article, where we'll talk about the best cartoon Kodi addons.
Best Cartoon Kodi Addons: Official Addons
We will start our list of the best cartoon Kodi addons with official sources. In case you haven't known, there are official Kodi addons and unofficial third-party addons. The first group is brought by the company behind Kodi and comes with an easy installation. On the other hand, unofficial addons come with Web-based third-party sources and their installation has a bit more steps. Either way, you'll be presented with thousands of different cartoon sources.
Follow the guide below that shows how to add official addons to your Kodi.
When you open Kodi, you will see its home screen. On the left side, you will see the main menu consisted of different categories of content. Click on Add-ons.
Once inside the Add-ons section, click on Download in the left-placed menu.
Now to go Video Add-ons. What you will see now is the list of available addons. If you click on any of their names, you will be taken to a new screen from where you can download and activate them. This is done by clicking on the Install button.
After several seconds, your new addon will install. Then, you will be able to find in the Add-ons section of Kodi.
This process is the same for the following two cartoon Kodi addons. The only difference is that you'll need to identify them by their names in the Video Add-ons folder (the third step in our explanation above).
PBS Kids
I think many of us agree will agree that PBS offers numerous educative TV shows. This is exactly what this addon offers.
The good news is that PBS is a very straightforward addon. It greets you with a list of TV shows on its home screen, from where you can continue to navigate. You'll find some well-known titles like Arthur, Bob the Builder, and Curious George. More than 30 TV shows are available at the moment of writing this article.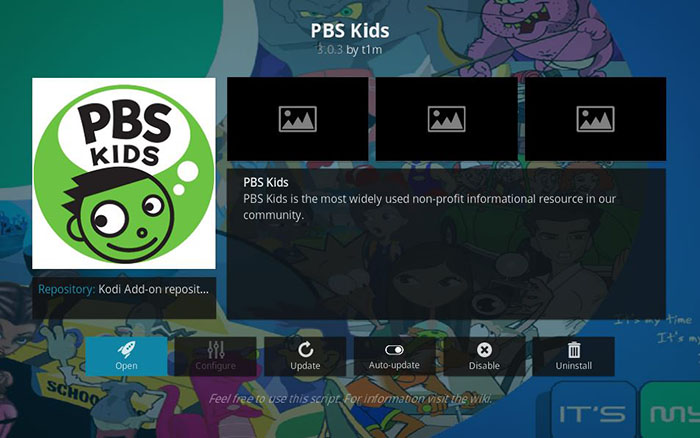 Once you click on any of the titles shown on the home screen of PBS Kids, you'll be taken to an overview of episodes. You only need to click on an episode to start playing it. This kind of simple navigation is beneficial, especially if you allow your kids to play cartoons on Kodi.
South Park
We are not sure if South Park is the right choice for your kids, but we are sure that many of you enjoy watching it on your own. Since this is one of the most popular cartoons of its kind, there are millions of fans out there who'd like to watch the entire series.
Among official addons (found at Add-ons > Downloads > Video Add-ons), you'll find South Park among the suggestions. This is an incredibly helpful addon for South Park fans since it brings every single episode from every season – always up-to-date and fully working. Since there are more than 20 seasons, having all those episodes in one place is an incredible achievement. This is why South Park is one of the best adult-friendly cartoon Kodi addons.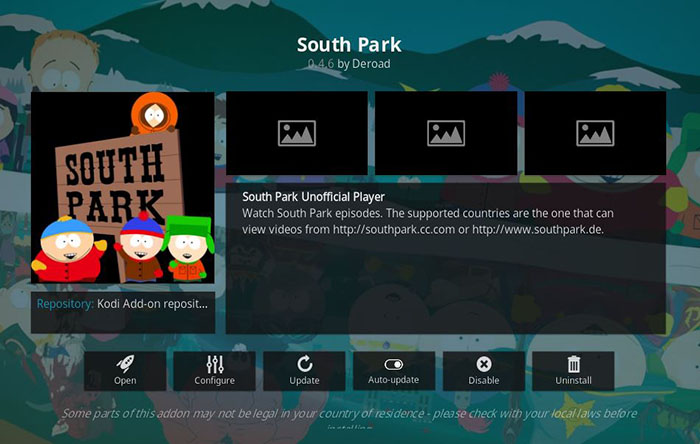 The home screen of this addon simply lists all of the available seasons. You click on any of them, and you'll be greeted with a grid of episodes. Click on an episode to start playing. It's that simple.
Best Cartoon Kodi Addons: Unofficial Addons
The world of unofficial Kodi addons is vast. Even though you can always find a couple of useful official addons, your experience of using Kodi won't be complete without unofficial ones.
Even though they come with the identical installation method for every of them, unofficial addons are found within different repositories. This is why we'll include detailed guides found below every of our suggestions. Let's jump right in.
Bobbys Cartoons
Be prepared to dive into an incredibly large pool of cartoons. Without any hesitation, we can say that Bobbys Cartoons is one of the best official cartoon Kodi addons. Let's see why is that.
The most impressive thing about this addon is its vast library of content. Here you'll find classic cartoons like Aladdin, The Looney Tunes Show, and Mickey Mouse Clubhouse. However, this addon also brings some of the latest cartoons as well – nicely organized into different categories. In total, there are over 100 cartoon series with thousands of available episodes. All of them are working without any issues. Just imagine having such large library capable of streaming using Kodi on your TV.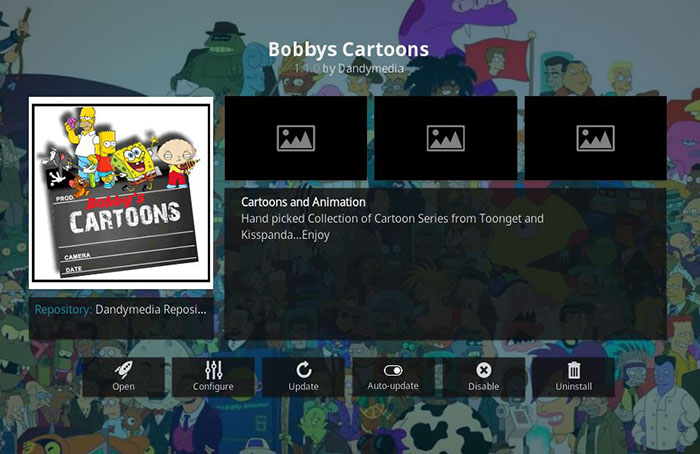 The navigation is very simple. Once you open the addon, you'll see a large grid of available cartoon series. Each of them comes with their own artwork, so even your kids can use the addon. Click on any of the series, and you'll be presented with a list of episodes. You are now one click away from streaming.
Here's how to add Bobbys Cartoon to your Kodi:
From Kodi's home screen, click on the Gear Icon. This will open the Settings menu.
Go to File Manager > Add Source.
Click on '<None>' and you'll be asked to enter a new URL. Paste the following address: http://dandymedia.club/repo/. Name it 'Dandy' and click OK.
Now go to the Add-ons section and click on the Open Box icon in the top-left corner.
Click on 'Install from ZIP file.' Navigate to 'Dandy' and then install the ZIP file you'll see inside. It should be named 'repository.dandymedia.zip'.
Return one step (use the backspace key on your keyboard) and click on 'Install from repository.'
Find an entry named Dandymedia Repository. Open it, and then open the Video Add-ons folder.
Inside you'll find Bobbys Cartoons. Click on the addons name and use the Install button to finalize the installation.
Bobbys Cartoon can be found in the Addons Section of Kodi.
B99TV
We continue our list of cartoon Kodi addons with B99TV. In many ways, it's similar to your previous suggestion, even though there are some important differences.
When you open B99TV, you will be greeted with four options: Cartoon Series, All Episodes, By Studio, and Search. All of these categories are self-explanatory. However, what we like here is the ability to search for specific titles, which is great if you kid prefers to watch a specific one. It's also nice to preview titles by different studios. Among the currently available ones, you'll find:
Walt Disney Animation Studios.
Warner Bros. Entertainment.
Metro-Goldwyn-Mayer.
Hanna Barbera.
As you can see, B99TV is an amazing source of classic cartoons. In addition, there's no shortage of quality cartoons, since you'll have a selection of a few thousands of titles. However, not all of them come in HD format – which perhaps isn't the most important thing since your kid is going to enjoy them no matter what.
Continue reading to learn how to install B99TV.
Open Kodi and go to the System Menu hidden behind the Gear Icon.
Go to File Manager > Add Source.
Now add the following URL (and make sure to carefully paste it): http://dandymedia.club/repo/. You can give any name you like. Still, make sure to remember it since we'll need it shortly.
Now visit the Add-ons Section, found in the main menu on Kodi's home screen.
When you get to the Add-ons Section, click on an icon representing an Open Box (top-left corner).
Choose to 'Install from ZIP File.' A new window will pop up, where you need to choose your new repository. When you click on it, a new directory will open containing a single ZIP file. Click on it to install the file.
Use the backspace key on your keyboard to return one step. Now choose to 'Install from Repository.'
Find the Dandymedia Repository. Open it, and then open the Video Add-ons folder. Inside, you'll find B99TV.
Click on B99TV and then finalize the procedure by clicking on Install. After a few seconds, the installation will be completed, and the new addon will be placed in the Add-ons Section.
Toons-R-Us
Toons-R-Us is our final suggestion when it comes to the Dandymedia repository. You can also think of Toons-R-Us as a viable alternative to our previously suggested addons.
This addon open with a series of different options located on the home screen. Some of them are Cartoon List, Newest Cartoon, Most Popular, Alpha, Genres, and Search. It's easy to see what each of them does – as their name implies. Among these, Alpha might be confusing on first sight. However, this option allows you to browse cartoon by alphabet.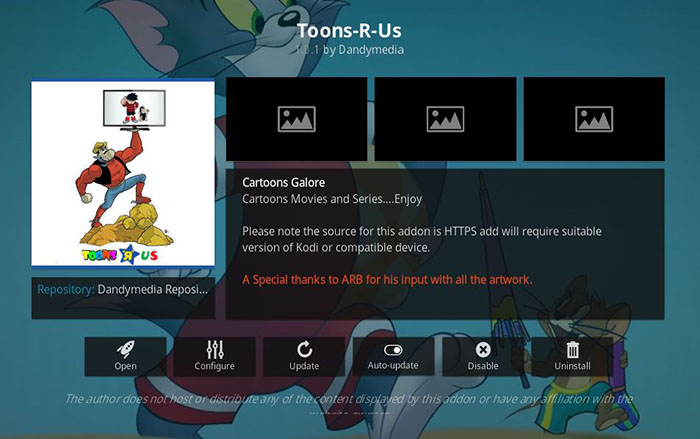 We like three things about Toons-R-Us. First, it brings an incredibly large selection of titles – both new and old. Secondly, many of those movies come in HD quality and without any streaming issues – which is what you should expect from cartoon Kodi addons. Finally, there are several ways to browse and find interesting titles. Even though you can always use the search option, don't be afraid to dive into this addon's content by browsing.
Perhaps the only thing we don't like about Toons-R-Us is its interface. Kids who still don't know how to read will have a hard time since artworks are missing from the home page. Still, kids today live in a digital world, making us sure they'll find their way around Toons-R-Us.
Below you'll find the installation method.
Open Kodi and go to the System menu. From there, navigate to File Manager > Add Source.
Double-click on Add Source until a new window appears.
Click on the '<None>' message to insert a new URL. Use the following one: http://dandymedia.club/repo/. Name it as you want and click OK.
Now go to the Addons Section from Kodi's main screen. Once inside, find the Open Package icon in the top-left corner. Click on it.
Navigate to 'Install from ZIP file.' Find your new repository and open it. Finally, click on the ZIP file you'll see to install the repository.
Go back one step until you see 'Install from Repository.'
From the list of available repositories, pick Dandymedia Repository. Inside, you'll find Toons-R-Us.
Click on the addon's name to see its overview. Use the Installation button to finish this step.
After a couple of seconds, Toons-R-Us will be installed and placed in the Addons Section. This is where you can find and launch it.
Bennu
Bennu isn't one of the dedicated cartoon Kodi addons. However, it does provide a lot of different children-oriented content. This is the reason why Bennu deserves its place on this list of the best cartoon Kodi addons.
The home screen of Bennu brings more than a dozen of different options. However, we'll focus on the one named 'Bennu Kids.' Once you enter it, you'll see the following categories:
Best Ever Animations / Kids Movies.
Top Kids.
Kids Movies.
Disney Animation.
Animation movies.
As you can see, these are different ways to browse Bennu's content. However, this type of navigation isn't child-friendly. Even though the artwork is shown at the last step (before playing a movie), children will find it hard to get there. However, this only applies to a certain portion of users. We are sure everyone else will have a blast watching cartoons on this addon.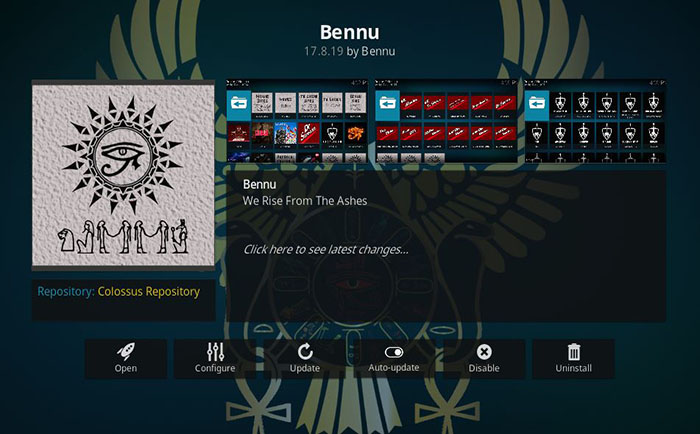 Allow us to guide you through the installation steps of Bennu, one of the most content-rich cartoon Kodi addons.
Open Kodi and navigate to the System menu.
Now find the File Manager. Once inside, double-click on Add Source.
In the pop-up window, click on <None> to enter a new URL. Use the following one since it contains the repository we need: http://mediarepos.net/kodistuff. Give a new to this repository and click OK.
Open the Add-ons section and click on the Open Box icon while you get inside.
Among shown options, choose 'Install from ZIP file.' This will open a new window where you need to select a ZIP file. First, find your new repository and inside you'll find a ZIP file named 'RepoColossus.' Click on it finish installing the repository.
Return one step in Kodi and pick 'Install from Repository.'
Now you should see the Colossus Repository. Open it and then open the Video Add-ons folder. Inside, you'll find Bennu.
Click on Bennu and use the Install button located in the bottom-right corner.
After the installation completes, you will be able to find Bennu in Kodi's Add-ons section.
Exodus
We would like to finish our list of recommendation with Exodus (and its alternatives). This is one of the most popular third-party Kodi addons that unlocks a whole world of entertainment. It's especially handy if you like watching sports, as well as certain types of content like anime TV content.
Quite often, we see addons that bring lots of content but that lack proper organization. This isn't the case with Exodus. You will see this as soon as you open the addon where numerous different categories await.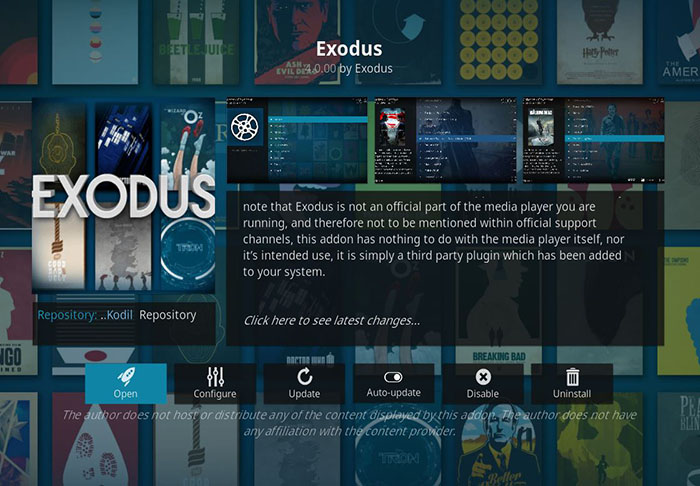 Those of you looking for a way to stream movies on Kodi, won't be disappointed by this addon. It brings an incredibly large collection of new movies and classic titles as well. The same applies to other types of content since it allows you to watch the latest TV shows as well. Moreover, this is a great source for specific groups of content. For example, Bollywood-made movies can be found here, as well as other types of cinematography.
To get to child-friendly content, go to Movies > Genres > Animation. The same applies for TV shows. You will find a huge selection of titles, many of them in HD format. Exodus does a good job of maintaining its streaming links and removing non-working ones. This is why you'll hardly find a movie or TV show that isn't working. The installation of Exodus is simple as well, which is why we consider it to be at the top of the best cartoon Kodi addons.
Finally, you should also be aware of Exodus alternatives. There are two applications identical to this one, which can be used as backup options. One of them is Covenant for Kodi, while the other addon is called Genesis Reborn. They look the same and they work the same. It's good to keep all three of them installed since Kodi addons can be problematic at times. Some of them disappear or don't work at the moment, so now you can turn to another one that's identical.
Conclusion
Dear fans of cartoons, this is where we end our list of the best cartoon Kodi addons. We hope that you managed to install all of our suggestions and that you're now enjoying in an unlimited library of content.
Do you have any suggestions for our list of cartoon Kodi addons? Feel free to tell us about your favorite addons, and we'll add it to our list. Use the comments section below to speak your mind.