Kodi is a popular media center that when combined with add-ons allows for streaming all kinds of content such as TV shows and movies.
In the past Kodi was confined to a media center box such as a dedicated computer. Now Kodi can be installed on an android phone or tablet, and play the same media anywhere bandwidth is available to stream content.
Kodi 17.6 Krypton is the newest version to be released and has some major updated and interface changes.
Kodi Krypton should install on any android smartphone or tablet that has at least Android 5.0 Lollipop or higher installed.
To install Kodi on an android phone or tablet and watch your favorite TV Show / Movie is a two step process.
First we need to install Kodi then we need to install a program called an Add-on to stream the content.
Be sure to be connected to a WiFi signal unless you have a unlimited data plan as streaming movies uses a lot of bandwidth and data.
Below is written step-by-step instructions for how to do both first installing Kodi then the popular Covenant add-on.
Steps For Installing Kodi To an Android.
The first step is to install Kodi from the Play Store or from the Kodi site.
It is much easier, and automatic, to install from the Play Store than the Kodi download page but either option will work.
How To Install Covenant Addon
Once Kodi is installed on your android add-ons need to be added to Kodi to stream content.
The Kodi Covenant addon is a new updated version of Exodus, and is currently the most popular Kodi addon but there are many more available.
Steps to Setup Unknown Sources in Kodi Krypton
Kodi Krypton needs a box checked called Unknown Sources to install add-ons such as Covenant.
Click the Settings Icon in the top left corner

A warning box will come up click Yes

After Unknown Sources have been set to ON, repositories and add-ons can be installed.
There are many other add-ons and it is best to have a few if one stops working.
Read Here To See a List of the Current Top Kodi Add-ons
Covenant is currently the most popular and is an updated version of Exodus which had been the most popular in the past.
Keep in mind there are many more plugins for Kodi available.
Steps To Install Covenant Add-on into Kodi Krypton
1… Click the System Icon from the top left

3… On the left click Add Source

5… Enter the URL: http://archive.org/download/repository.xvbmc

6… In the next box down name it xvbmc and click OK

7… Double Check everything is correct and click OK

8… Go back to Main Menu and click add-ons

9… Click the Package Installer Icon from the top left

10… Install from zip file

11… A box will slide open find xvbmc and click it

12… Click repository.xvbmc-4.2.0.zip

13… Wait for the top right to popup xvbmc Repository Installed

14… Click Install from repository

15… Click XvBMC (Add-ons) REPOsitory

16… Video Addons

17… Covenant

18… Install

19… After it installs it will be located from the main menu Video Add-ons

How to Stream A Video With Covenant and Kodi
After the Covenant add-on is installed it will be located from the main menu under Addons–>Video Add-ons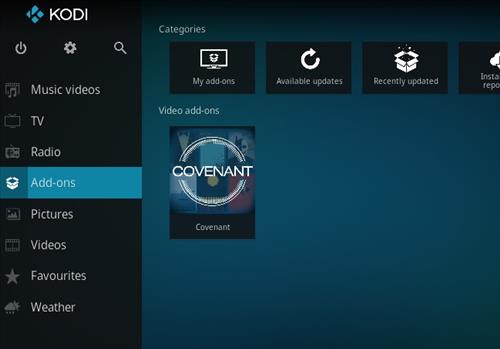 Finding movie or TV show within Covenant is easy to do what confuses most is how the servers work.
Once a video is selected to play a server list will come up with available streams. Covenant will take 60 seconds to pull in all the best server links.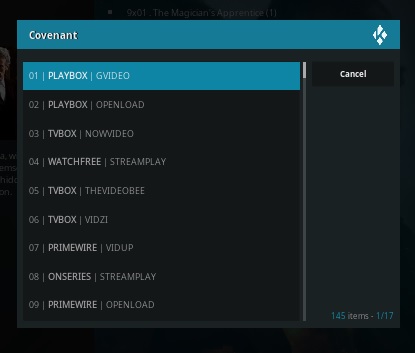 Servers can become full and kick a connection or start to buffer, if this happens simply move on to another server.
Sometimes 4-5 servers will need to be tried before a good one is found.
The servers are simple enough to understand, basically if one becomes full and doesn't allow any more connections, then a server that is not full needs to be found.
Sometimes a server will come up that ask to PAIR with it. Simply hit the cancel button on any Server asking to Pair and move on to the next on the list.